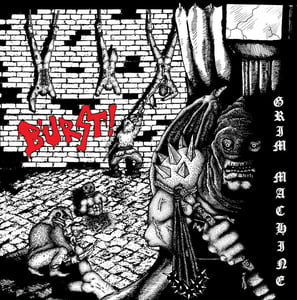 €

5.00
ASSURD RECORDS RELEASE - AR-017
THIS IS A PREORDER
WILL SHIP AFTER MID FEBRUARY 2016
So finally the sophomore record from our friends in B'urst will see the light!
After a debut 7" out for Criminal Right Records, highly appreciated, guys in the band deliver again 3 new tracks plus a cover of Public Opinion by the legendary Urban Waste .
What do you expect?
SIMPLY ONE OF THE BEST OLD SCHOOL HARDCORE RECORDS RELEASED SO FAR!
Think to Cro-Mags combined with mid 80's NYHC vibes , fantastic guitar riffs and angry desperate vocals from hell!
PRESSING INFO :
10 test press with alternate cover
150 copies on orange vinyl
350 copies on green vinyl
LISTEN TO THE FULL EP ON OUR BANDCAMP PAGE :
https://assurdrecords.bandcamp.com/album/ar-017-grim-machine
It will be downloadable for free for everyone after release date, but if you go with a preorder you'll receive a download code!